Well, I wasn't going to alarm you by going for THAT title, now was I?  After a marathon sesion of basting, machining, handsewing, and more basting [and a few forgetful moments and slight tweaks] the two gray shirts are done.  Pictures in the next post.
It's been a hellacious couple of days, with all sorts of ups and downs [and still no news about the job of course], so the sewing was most definitely therapeutic.
While I was stitching away, our little grey moggie, Vita, came home [so that's three grays].
She disappeared on Saturday morning, after an extremely ferocious and deafening fight with the newcomer, Simba.  We re-homed him a couple of months ago now, from the wife's cousin, as SHE'D re-homed him, but he was bullying their other bengal.  Well, he's been bouncing around acting like he owns the place, and jumping on our two resdient cats as well.
NOT GOOD.  The missus has been announcing that he has to go every other day since she brought him in, and I 've insisted that these things take time, his body language is not actually aggressive, just over enthusiastocally Tigger-ish, and left to themselves [within reason] the older cats would establish the status quo.  And it's slowly been working- the bouncings-upon and resultant squallings and tellings-off have got more widely spaced, etc etc.
BUT.  On Saturday morning, there was an appalling screeching just outside the back door, followed by the motorbike alarm going off.  Simba and Vita were kicking up a ruckus in the very small space which houses the bike.  We erupted out of the house, they both erupted from under the bike cover, and shot up the garden [Simba in the lead.]
And Vita stayed gone until a couple of hours ago, so 3 1/2 days.  I spent time again today leafletting all local houses, as wifey has been distraught [Vita's very much her baby…] amd earned a couple of whopping blisters for my pains.  [Big hills round here]
Me and the missus have been at loggerheads, as she wants rid of Simba, and has spent 2 days in whispered phone conversations making arrangements.  He's been in solitary confinement in our bedroom [so not much sleep for us, as between much fuss and affection, he's been yowling to get out.  Ever heard a BEngal yowling?  They're loud.
Last night, after a long chat with a friend who's into animal healing and all that, she softened, and said we'd continue to work on socialising the little ****.  This morning, she renegued and has arranged for someone to come to take him away on Saturday morning.  I blame the HRT.
Now as the little demon has bonded with me, and me with him, I'm not very happy about that.  So we're all out of sorts.  I've got absolutely no idea what frame of mind she'll wake up in tomorrow, or how many more times she'll flik-flak her way to a conclusion.  Good job I have sewing and retail therapy to distract me…
Yesterday I indulged in some Style Arc pdfs, because I could.  In the sale though, and on Etsy, so not extravagant.  I got these:
Mindi Skirt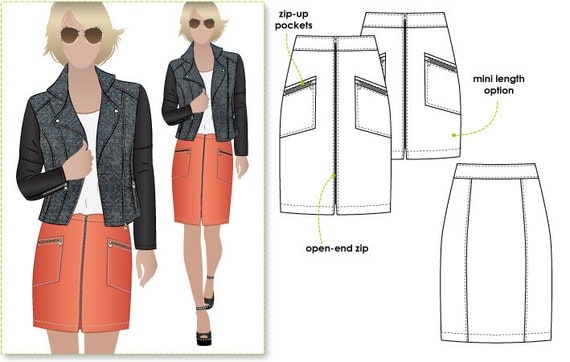 Etta Skirt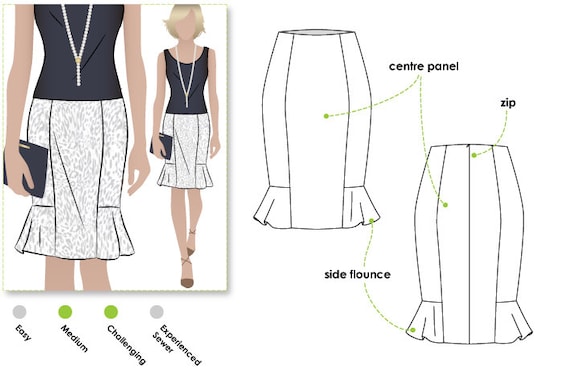 Ann top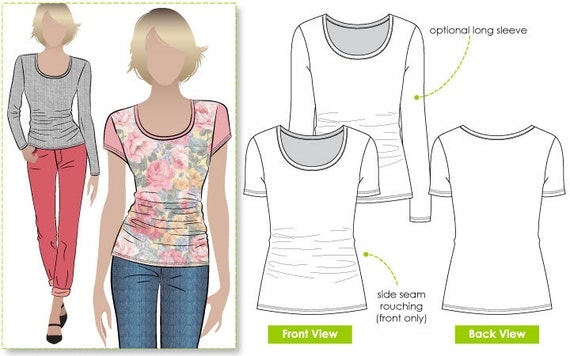 When I went to print them, I found I'd been a complete tit and ordered the printshop version for the top.  Cursing horribly, I sent a message to the lovely Chloe from StyleArc explaining my idiocy…and she sent me a very fast reply, with the right PDF attached.  Lovely Chloe!
I HEREBY CHARGE YOU ALL TO BUY MANY, MANY STYLEARC PATTERNS!
Ahem.
I then went a-blogging, and found this little treasure, as blogged by Blogless Anna.  The Nell shirt. 
So I bought that PDF too.  I now face much glueing and cutting.  Ah well.
My fabric parcels continue to arrive, so I'm happily mixing and matching the delights with patterns, for a lovely day of cutting out.  Oooh I love cutting out!
Then, while seething from one of the many sniping sessions which we've 'enjoyed' today, I had an email from ebay, asking if I was still interested in a fabric I'd been looking at the other day.  No, was my rapid realisation, on looking at it again…BUT…at the bottom of the page, one of those ruddy 'we thought you might like this' thingies LEAPED OUT AND POKED ME IN THE EYE! It did your honour, it really did!  And it had a friend…
So what else is a poor, bad-tempered and grouchy Fairy to do?
Reader, I bought 'em.  Winging their way from India no less…just look at these delights!
Maxi dresses methinks, with interesting pattern placement…so I ordered 3yd of each.  And it still only came to just over thirty squids!
Right, it's nearly 2am and my coffees have worn off, so beddy byes for me.
Any temptations broken your will lately?