I'm all excited!  I finally got the chance to justify making this little beauty, a pattern which I indulged in ages ago on a whim, and just take out from time to time for stroking purposes…
A friend has hinted that he's planning a costume party,and that he wants to make it 'sort of Victorian' themed.  Sorted!
I'm going for the long jacket in deep green taffeta, bodice in a brown/gold embroidered delight that's been waiting for its destiny for years.  [You can glimpse it in the header at the top of the page, as I used a bit of it in my Koos van den Akker bag.]
The skirt will be different though, I'm not keen on those pleats, they remind me of school games skirts [shudder]
Instead, inspired by this one…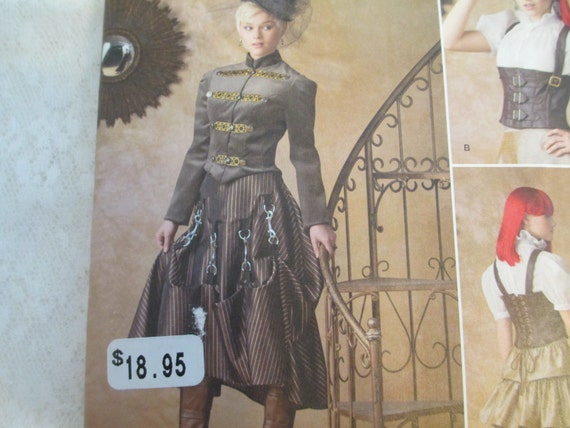 …I'm going to make a more edwardian style, with a flatter front, and circle cut back, but running a couple of channels down the inside of the front to enable me to hitch it up…maybe even using chain, we shall see.
My brain has been in overdrive, and of course I need an actual character so that the costume will 'work' better in my fevered imagination.  I shall be an archaeo-mathematician, Hypatia von Tuthriffore [say it out loud], solver of cryptological mysteries around the globe.  My hat will hence need quills and invisible ink, and my 'pocket watch' will actually be a slide rule.
What do you think of that then?