…on corset making.
The last corsets I made were many many moons ago.  I had no idea then how to ontain the specialist tools of the trade [busks, spiral boning, proper lacing] and I just relied on what I could get from the market plus the wonderful 'Corsets and Crinolines' by Norah Waugh.
The corsets did the job, [mostly theatrical] and all was well.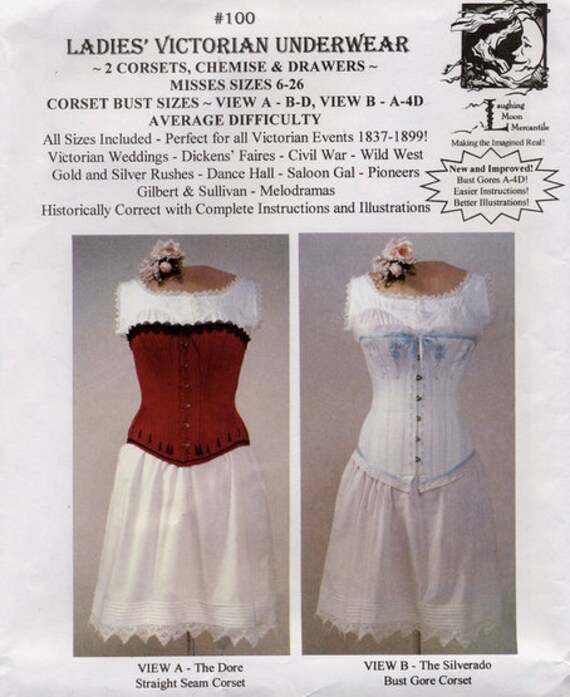 This time, with greater knowledge, technical skills, and online resources, I'm doing it properly.  A lovely lady that only knows me through 'The Sewing Forum' very kindly sent me an uncut copy of Laughing Moon's famous corset pattern.  I'm opting for the 'Silverado' which is the one on the right, and comes with different cup-sized bust gores.  I'm using the largest piece, cut to DD sizing.
I lay in bed this afternoon, prior to having  a well-earned nap, and read all the pattern notes and extra information on corset construction, a bit of fashion history and so on.  It is usual to cut the corset pattern best matched to your bust/waist/hip BUT you subtract between 2″ and 4″ to allow for the gap you should leave at the back for comfort.  This also allows you to tight lace if you wish.
I already had some coutil [the firm woven cotton fabric which is best used for corsetry as it doesn't twist or distort under the pressure of the bones and lacing] but blanched in horror at the horrible chaos that several months of productive sewing have left… fortunately, my nap refreshed the old synapses, and I went straight to the drawer where it lurked beneath a  load of wadding and embroidery threads.
I also found 2 busks- joy! A bit of time with a tape measure after cutting out their standard size 16, and twenty minutes on the Vena Cava website, and all the correct length bones will be winging their way towards me on Monday morning.  I'm thirty squid poorer, but this will be a custom made job, which will be worn under a whole wardrobe of planned outfits.  Money well spent.  The grommets/eyelets will be purchased from ebay, which will be somewhat cheaper!  I may yet decide to handsew them as I did for the wife's wedding dress…quite an enjoyable task as it turned out.
I've not yet decided  if I will leave it plain white cotton, or cover it in fancy fabric.  There are quite a few moderately sized pieces of gorgeous shot silk dupion left from the wife's wedding dress, that may be just the thing…  Given the steampunk style of wearing corsets outside clothing as well as underneath, fancy may be the best option for versatility.  Let's see how tidy I make it first!
Meanwhile, two patterns arrived from 'Truly Victorian' and are singing siren songs at me from the ironing board where they're reclining, combing their hair and shimmying their seashell bras.  Well you know what I mean.
Plan:  skirt and evening bodice [right hand image, bottom left style] in purple embroidered taffeta, 'day' bodice/jacket [left hand image, top left style] in purple wool coating.  All should combine hapily with my existing black taffeta skirt, white blouse and green jacket.  Yum.
The photo here makes the purple wool look rather blue- it isn't, more of a Cadbury purple.  The silver is for lining and/or contrast trims.
Can't wait!  I'll cut out the corset pieces tomorrow, and maybe sew a few bits together while I wait for the bones to arrive.  I also have a shedload of marking and admin work, so can't get too absorbed!