All set for a day of sewing, I found myself sitting messing about on Facebook until I had a headache.  And then I gave someone advice on where to find some digital print fabric…and ended up buying some more for myself.  Look at this beauty from Stone Fabrics: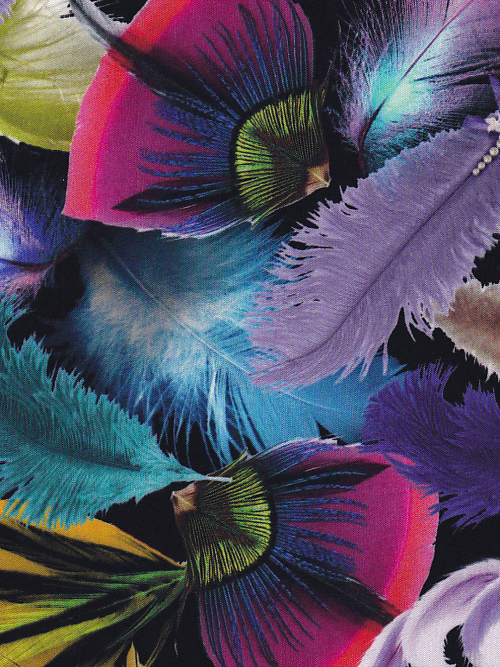 Cotton lawn, all my colours in one, how could I resist?  I didn't dare look at anything else, just rang them, placed the order, and got off the site FAST.  Dangerous temptations, be warned!
Then, refreshed, I decided to pick up on the little folding green parasol that I bought…ages ago.  So I sat myself down at the table, and got distracted by another little project that I'd thought up.  A couple of weeks ago, I hastily knocked up a little parasol holster for my steampunking days out.  I used a remnant of tapestry fabric from my ill-fated carpet bag [more on that in due course], some special bag wadding/lining that I got from…can't remember, and leather-look handles from an old tote bag.
It loops onto my belt, and worked fine, except it was a little snug for the brown silk/lace parasol, and I'm worried about damaging that lovely metallic lace.  SO I needed a larger one.  A quick rummage, and I unearthed a weeny remnant of metallic brown/gold/peacock blue geometric delight, which I had wangled at a massive end-of roll discount on one trip to Barry's.  It's a SMALL remnant, a lot less than a half metre, and they wanted to charge me full [expensive] price at first.  I got it knocked down in the end, but it really wasn't big enough for ANYTHING.  Until now.  And half an hour later, a pretty new parasol holster for the brown parasol.  Yay!  I've started sewing!
Then I set to work to VERY carefully dismantle the little green parasol.  I tested a scrap of the rather tacky, FILTHY, nylon-feeling fabric, and it is indeed silk.  Rotten, hardly any intact pieces.  It's a lovely little thing though, with dark green painted handle, and a lovely heavy green tassel.  The end tips to 90 degrees from the usual position, to shield your face in your carriage.  Or something.  Anyway, it's gorgeous, and had to wait until I found exactly the right half metre of silk to replace it.  Enter this luscious silk dupion.
Lots of photos, lots of very careful unpicking, pinning fragments to some paper so I could make a template, and I'm ready to go.
The seams on these old parasols are quite odd, somewhere between a French seam and a felled seam, and I think it's quite particular to traditional umbrella making.  It looks like the raw edges are placed together, folded over to encase the raw edges, and then stitched through all the thicknesses.  This makes a very narrow, very sturdy seam, which holdsup well under the tension produced by the frame.  I'm allowing myself a little more seam allowance to work with though.
The hem allowance is also tiny, less than 1/4″ in a double fold.  Not sure my fingers will manage that!
Although the parasol is very small, the cover is stitched to the frame in four places along each spoke.  I failed to remove the stitching around the top 'spike' ['ferrule' I think] as the fabric was just too gathered and rotten, so I just used a bit of brute force and ripped it away after taking some pics of how it's attached.
I then dug out this lovely bit of fringe, which I snaffled on a Rag Market trip a while back.  I knew it would be lovely on something, sooner or later!  It isn't quite the right shade, but then the silk isn't exactly the same shade as the handle or tassel, so it will be fine.
This is going to be a fairly fast make,[yes I know, kiss of death right there]  and I'm looking forward to getting it done.