StyleArc Ziggi jacket #3
Good news or bad news?
Bad first I think:
I basted in a sleeve and [fortunately] checked it on the missus.  Eeek.  As I'd taken some bodice width out under the arm, I knew some would have to go from the sleeve, so took a stab [this is me you know] and pinched some out at the back sleeve seam. Remember, this is a 2 part sleeve, not as simple as taking some out at the underarm of course.
It looked CRAP.  For some reason, this resulted in loads of excess fabric at the front armscye [can't work out why] and the counter-intuitive result that she can't move her arm much across the body.
Back to the drawing board.  After much thought, I think the only way I can do this would be
[a] recut the under sleeve completely, folding out a little at the centre,  This is unlikely, as I don't think I have any of the fabric left.  I will hunt for a while though.
[b] Make a little dart on the existing pieces.  As this would end up under the arm, it won't much matter.  Much.
Gah.  Maybe I SHOULD invest in a fitting book…  Other suggestions more than welcome btw.
Anyhew, good news.
StyleArc responded to my whinge, with a very nice email:
"Hi Elaine, we do apologise for the stress this has caused you, we will upgrade the con sheet to include the zip insertion into the pocket, also we will mention the zip pocket tutorial on the SA website.
We would like to offer you a 

pdf

 file for any pattern of your choice. If you would like this offer please email us and let us know which pattern you would like. 
Hope you have a lovely day and you can salvage your jacket.
Cheers Lyn
S A team."
This is why I love StyleArc.    Great patterns, great service.  Now, what pattern should I indulge in?
****5 minutes later****
THIS ONE!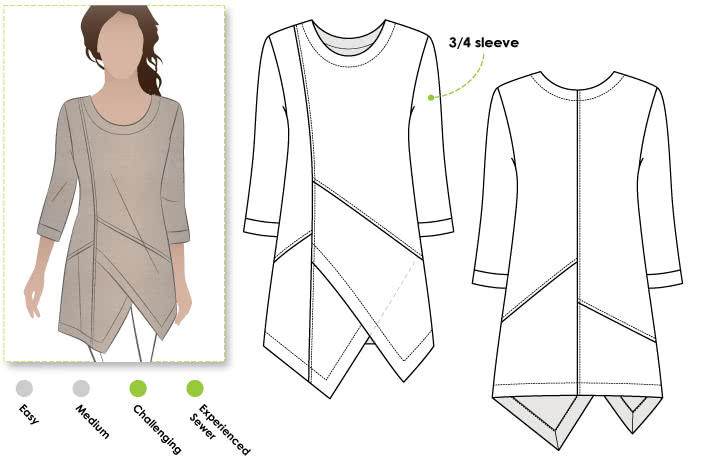 Now that looks straightforward, and a brilliant way to use up oddments.  Watch this space.