Vogue 8793, Katherine Tilton.  Black viscose jersey with mesh detail on collar
SWAP 2018 #2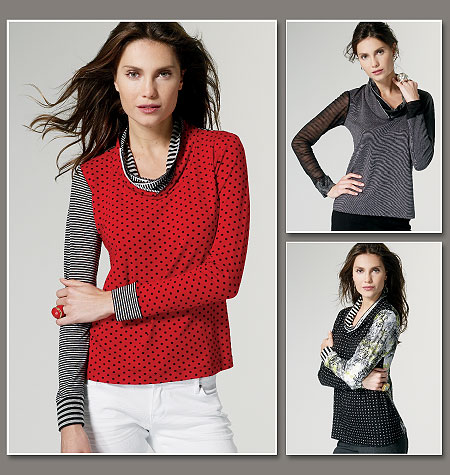 First time I made this was in my zebra print, with mesh sleeves.  I originally made the two-layer collar in black and white contrast, but decided it looked rather vicar-y, removed it and added a plain neck binding.  I kept the cuffs on that version, because how do you get a neat hem on mesh?  No need on this one.  This is intended to be a layering piece with the stripe dress, as well as to be wearable on its own.
The 2nd version was in bias cut sheer chiffon, my take on a sleevey wonder:
A very fast and simple make, no mystery, no palaver.  The slightly loose fit is more forgiving of my lumps and bumps than a sleek-fitting T shirt, it's also got a decent length to the body.
I've got the overlocker set up with thread in black, red and purple, because that's what I do, and I quite like the way the little bit of red shows through the mesh.  It's actually more subtle than this, but this one was done with flash to show the detailing of the collar.
Very wearable, the jersey is really soft and has good recovery.  Lovely.