Style Arc Avery, two versions.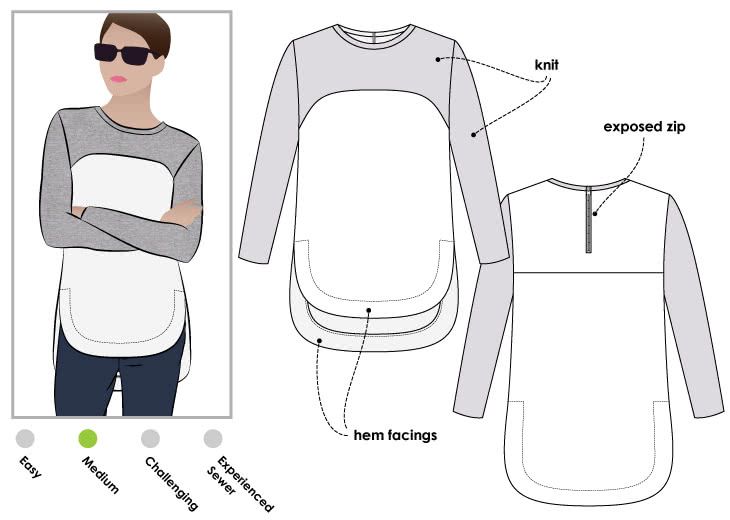 #1 is the Disney Ursula cotton print, with a teeny remnant of toning thin jersey from stash, just enough for sleeves and front yoke [I tried to eke out the back yoke too, but no go]
#2 is the astronomy cotton print, with another larger remnant of thin jersey, hence my ability to cut the back yoke from it.  This was a scant metre remnant from Frumble, quite pricey!
These took some serious fussy cutting to get the main body pieces [which are sizeable] and also the curved hem facings.  I could have cut those from a contrast, but didn't even though three of the four facings had to be pieced in the middle.  I was cutting out so much stuff that my concentration lapsed, and I actually cut BOTH of these with the woven back yoke, meant to take an exposed zip…even though that's the one thing on my previous one that annoys me when I wear it: the zip always catches my hair.
I removed 2″ from the back length [after actually cutting the damn things out]  So many tops seem to be designed to cover big bums…and I don't have one!  I also lowered the front neckline just a bit as I hate feeling throttled!
These prints were bloody pricey, so having cut out the back yokes in the astronomy print, I didn't want to ditch the fabric, so contrived patch pockets.  I did an amazing job I must say, they are INVISIBLE.
The instructions are typical Style Arc, but the method for getting an exposed zip out of them is..odd.  I did my own things and it's sort of semi-exposed, sewn in by hand after applying the facings.  I didn't understand their tutorial as applied to this type of zip insertion, hey ho.
I didn't do the topstitching by hand this time, just got it done on the machine as any such details would be lost in the busy prints.
I SORT OF pattern matched with Ursula, at least trying to centre the pattern and line things up, but it's an uneven pattern so was never going to be perfect! [As if anything  I do is perfect, yeah right]  I like the fact that the black zip sort of forms her body .  I added the folded strip of the contrast jersey to [sort of] distract from the mismatching at the back yoke seam.  There wasn't enough to do anything about it, so bite me.
Et voilá, two fun tops, nice and colourful and comfy for autumnal climes…