Nope, not that.
Not that either
DEFINITELY not that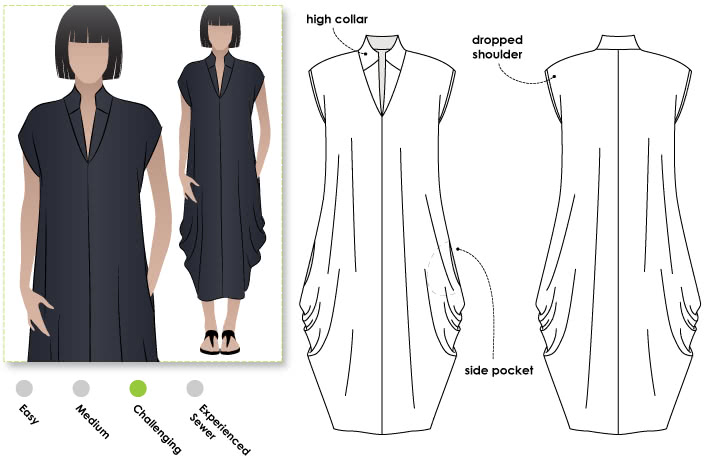 That's the one!
I loved this design when it came out, good old Style Arc…but despite making two versions, I simply could not get it to drape at the sides the way it looks in the drawing.  The first was in a  red textured knit, very stable and spongy, so I decided it was too heavy.  I made the second in a slinky geometric print jersey…and it wouldn't sit right either.  I contacted StyleARc on their FB page, and was recommended to sew some weights, coins or some such, into the side points.
Still didn't work, and I got peevish, leaving the dresses languishing in the Crate of Shame.  A while back, lovely Ruth [Core Couture] did some jiggery pokery with her Toni, turning into a long open coat buy simply opening up the front seam.  This weekend, I finally did it, and also stitched the inset pockets down to the front to stop them flapping about, and tapered the annoying side point  into a curve more reminiscent of my favourite V1410 or the fabulous V1552.  No drape problems there.
The missus loves these, she says they give me the teacher swagger that my graduation gown does [she really likes that, ahem]
I will never cure myself of leaving things in the Crate of Shame for years…but I'm pleased these will now get worn after all.