In which your beloved Fairy comes to a sticky end with several projects…
You know what?  I think it's as important to share disasters as triumphs.  I wouldn't want anyone to think I know what I'm doing, or that everything I make works out.  You saw those purple trousers didn't you?  I can't work out how to fix them other than re-cutting to make them narrower legs, using another pattern.  [Someone made the brilliant suggestion of wearing them backwards, given my non-bum and giant front…and it ALMOST works]
Then I moved on to making a new-to-me Style Arc tunic, the Melody,  in a gorgeous striped fabric.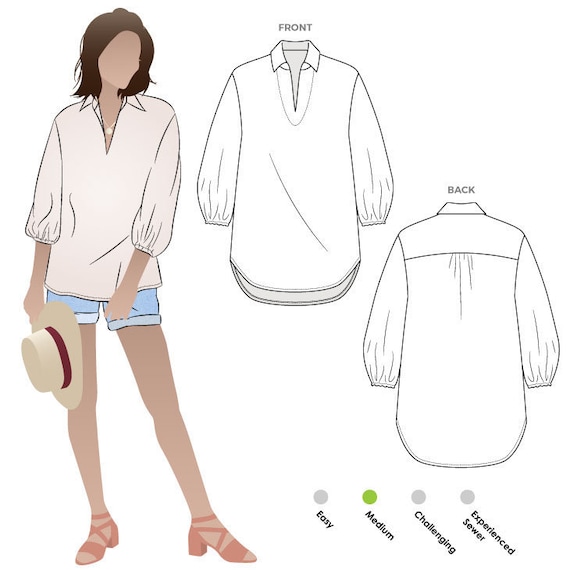 I think I'm cursed with stripes, do you remember the attempt at the striped Edwardian blouse? *shudder*  I made the nicest collar EVER.  I thought about stripe directions, instead of just barging in.  I did NEAT TOPSTITCHING on the bib front facing and even made the decision to flip it to the outside as a style feature.
I EVEN BURRITO'D IT!
It's horrible.
Even though I thought hard about that flipped facing- it looks like, well, a bib.  Nasty.  And it looks weird where the collar joins because the wrong side is visible at the opening.  AND IT'S HUGE.  VAST.  I knew the pouffy sleeves wouldn't work, so I tapered them before cutting [you see, I thought about it] but they look horrible, just shapeless and square.  I look like  a giant stripey CUBE in it.  And the fabric's gorgeous, and the collar is beautiful.  So annoying.  Look how low the armholes sit!
It's on one side now while I sulk contemplate a fix.
I dived onto the VERY simple New Look 6086 vest top, [view D] in the luscious heavy green silk, splashed with gold.  If you recall, I had a right battle cutting it out of the remnant I'd bought, barely squeezing it out even by liberal use of insanity in layout.  Two darts, side seams, centre back seam and shoulders.  Badumtish!
VAST, droopy armholes, long enough to be a very short mini dress.  WHAT THE HELL?  Their stated size 18 only allows for a 40″ bust, [and I'm 44″] so I'd veered away from the cutting lines at the bust, fiddled with dart placement, and was prepared to have to skinge about with seam allowances…but no.  I took it in 3/4″ at CB [so that's 1.5″] then I tapered it off at the sides the same amount [another THREE INCHES] Tweaked an inch in at the shoulders [so actually 2″ off] then cut off nearly FIVE INCHES AT THE HEM.  Jeez.
The only reason I can think of is that it's suggested to make it up in slinky crepes or other shifty fabric, which would presumably drape against the body rather than standing out the way this does…but even so.  That's a lot of tweaking.  It's staring balefully at me from a small pile of can't be arsed, until I can hem it.
**update- hemmed, bound, done.  I don't do sleeveless, but this will be nice with a cardi.  It's still odd- it goes all soft and slinky when the steam is on for pressing, then sets back to quite stiff.  I may handwash to see if that changes anything…not bad though, maybe not a disaster after all.
Onwards and upwards.
Last thing on the cut out pile was the ruddy toile for the Okistyle 'Salt' jacket, that interesting asymmetrical number with more than a touch of the Westwoods.  Exquisite drafting, it makes up very quickly.
The back is odd, very curved and almost domed, but it does fall into the required folds, even in stiff-ish curtain lining.  The 2-piece sleeves are very nicely curved, but a little baggy, and I'm not convinced by the pleats at the sleeve head, they need changing to soft gathers or easing.
It's too small of course, which I expected- I need to do some sort of FBA, and get rid of some of the optimistically hourglass waist shaping, if it's ever to fasten across my girth.  That's daunting [not because it's hard, but because I can't be bothered…terrible isn't it?]
I've only found one review of this on PR, a tiny little woman so I can't compare results.  The only other version that seems to be out there is by this larger lady, but she made it in pleather and missed out the buttons so that doesn't really help me.
I'm baffled by the fronts though.  To get the oddly-buttoned and pleated front effect, I think one of the fronts needs to be 'normal' with the other buttoning onto it…but they are both the same.  I see no way to get the required effect as it stands, maybe I'm not reading it correctly?
Suggestions please.
Sigh.  Ah well, the stripey SKIRT came out nicely, and I've already worn it to work, so I'll blog that next.