…I'm regaining energy and mojo for sewing.  The new job is going very well- as exhausting and time-greedy as I expected, but I'm finding my feet quickly, the kids are fine, and staff are a real team, which is amazing.
I'm wearing my return-to-work wardrobe, which mixes and matches to great effect, and I get compliments all the time, from staff AND kids.  Most pleasing lol.  I'm needing a few more layering pieces- temperature in my room can be kept beautifully chilly, to my delight, but elsewhere can be VERY hot, so I need jackets and layers to strip off as I go.
The Toni-adapted long waistcoats are great for this, as is the stripey Style Arc 'Marie' cardigan and the Mimi G denim coat.  I will be cutting out some more as the fabrics present themselves…but repeating existing patterns gets boring, I like something new and interesting.
SO that Okistyle jacket has been simmering away at the back of my mind, and I think I'm going to abandon it at the toile stage.  I love the style, but it isn't going to work for me without major effort and I'm all for instant gratification.
What does Fairy do for instant gratification?
Well yes.  Ahem.
But also, I hit the StyleArc website and snagged these two beauties.  Because, well, art teacher chic innit?
The 'Maisie Designer Dress'
The Sienna Jacket.  I'm liking the fact it's ALMOST styled like a jeans jacket with the little waistband and seaming, but is a bit more tailored.  It will look great in that jade green wool paired with the uber frilly Okistyle skirt don't you think?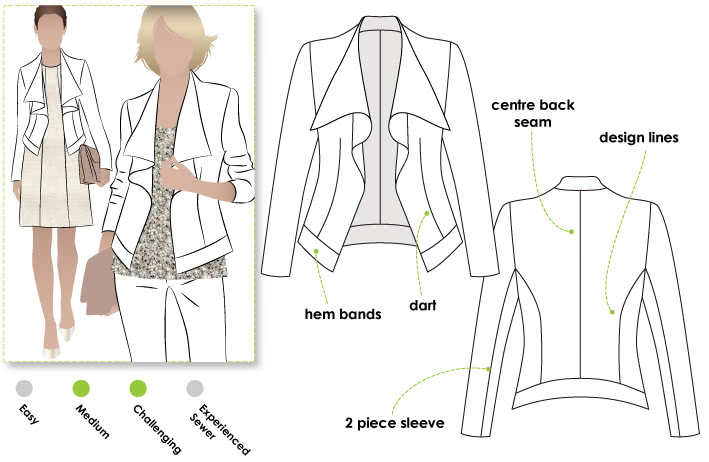 Still lying around but not calling to me right now is this other Oki project
This little beauty that came out huge and frumpy…
So, a couple of plans, some items to finish/fix, and two more PDFs to tape up.  Good job I just downloaded a new audiobook!
Back soon [I hope]