To my amazement, typing Nina & Maisie into Google gets quite a lot of results: Nina and Maisie are apparently, 'The Fringe Sisters' https://www.bbc.co.uk/programmes/p022t8ls/p022t82w
Also, apparently there's a Nina from 'The Vampire Diaries' joining Maisie Williams [Arya in GoT of course] for some new thing.  Meh.  Anyway, NOT the Nina and Maisie I'm on about.
Style Arc strikes again!  Repeat makes of the Maisie dress and the Nina cardigan.
I bought several lengths of lovely quality ponte in a teal/jade, purple and good old reliable black to boost the gaps in my wardrobe:  cardigans and trousers.
So of course, the first thing I cut out was a dress…or two.  Anyway, this Maisie should have been a very quick sew, using another length of purple/aqua print African cotton, and the teal  ponte for the bodice.  I decided to ring the changes by putting flat piping into the asymmetrical skirt seams to exaggerate the style lines and exaggerate the lampshade shape of the skirt, and found just enough bits of aqua silk dupion to do so.
I assembled the bodice first, and the overlocker decided to get up to its occasional moody tricks, first requiring FIVE complete re-threads to play nicely, then jamming, breaking  a needle, and requiring five more.  I have no idea why it does this from time to time, but I try not to swear too much as it sews a LOT without much fuss.
Shoulder seams and neckband went on beautifully after this bad start, and sleeves were inserted flat…all good.  Then I started to sew the sleeve/side seams and realised I had a problem.  The fabric looks almost identical on both sides, and the front and back pieces are asymmetrical, giving a diagonal waist seam.  Turns out [hah] that I'd flipped the front bodice piece over so the long and short side seams were misaligned.
Much swearing.
Putting it right properly would mean unpicking both sleeves, AND the topstitched neckband AND shoulder seams, flipping or recutting the bodice front, and reassembling the lot.  Yeah like that was going to happen.  I balled it up and threw it around a bit, then picked it up and laid it flat.  You guessed it, I decided on a codge job, and cut off the offending triangle from one side, found some scraps, cut another triangle, and sewed it to the other side.  There's now a rather odd little seam just above the waist on one side, but it COULD be taken for a wonky dart so I don't care.  As I wear it, it's under my boobs and I can't see it anyway lol
Skirt went on without fuss.  In the first version I'd taken about 1.5″ of length form the lower skirt, but the pockets are a tad low for me, monkey arms notwithstanding, so this time I shaved an inch form the bodice, which works fine.
Finished, tried on, and…I didn't like the flat piping it just looked wrong.  I couldn't face undoing any machined and overlocked seams though, so out came my lovely little duckbilled scissors and I just cut it away carefully.  Fraying threads will come away quite quickly, and meanwhile, I really don't care!
I think I may still make one more, in bold colour-blocked ponte…what colours should I go for?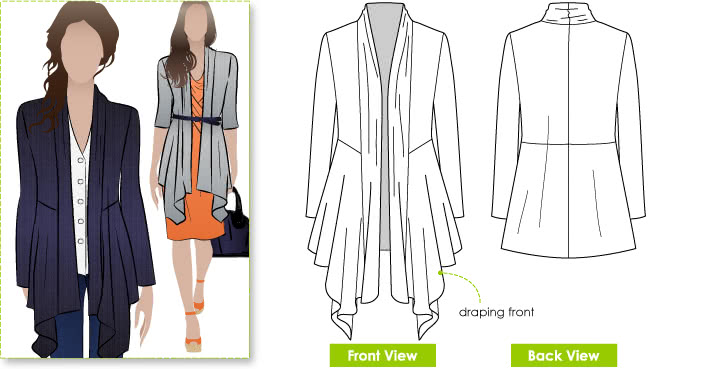 Fortunately, item #2, the Nina cardigan in the same teal ponte went together in under an hour, and I LOVE IT.  There's something about the clever seaming on the bodice front that makes this look smart, not just a saggy cardigan.  VERY nice.  I may need a few more!