BUT.  As is the normal cycle of things, my stashes have recently overflowed into a huge [I swear it's breathing] mass which is not contained in my various storage options.  As a reminder, part of my storage is upstairs in the boxroom, which contains two large racks of books [not in constant rotation, unlike the  downstairs ones.  Much-loved children's books, art books, maths books, costume making books etc]
It also contains three crates of leftover fabrics, not full yardages on the whole,  and various random small plastic drawer units for things like ribbon, lace, trims and the like.  There are a whole load of zip wallets containing things like POSH lace, wedding dress beads,  and lingerie fixings. There's a 2-drawer file cabinet full of patterns.  Let's be honest, overflowing…
There's my shoe storage system. and a fabric-covered wardrobe wherein we hang storage for bedding. I also have two bags of knitting paraphernalia even though I rarely knit.
There's an enormous crate of costume-y type fabrics, like crystal organza, and old curtains.  There are several boxes of steampunk bits and bobs- hats, parasols, accessories, which is an annoying business as I usually have to tip the lot out to find the glove I want.
There's an old hatbox full of wigs, and another for masks.
On top of the book cases, several boxes of art supplies [I WILL get back to my art at some point, I will] and things-which-have-no-other-home, like the box of beautiful Bath glass we bought on honeymoon, but is waiting for its permanent home-to-be, and curtain fixings of various types.
A gigantic stuffed black panther, which had a home at our last rental, but fits nowhere here, and my treasured Bagpuss.
IN A BOX ROOM!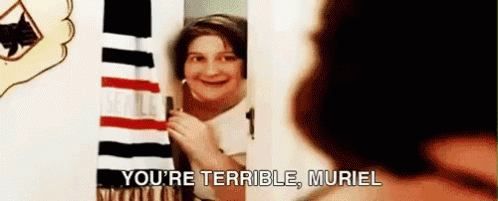 The dining room/sewing room has a large racking shelf unit which holds 6 crates/boxes of fabrics, zip bags of zips, interfacing, and binding.  Two storage boxes of thread, one of buttons, and my tool kit, as well as a small tool storage box of bitty bits like safety pins and bag making bits.  And the crate of shame and a heat gun..
There's the 1911 treadle Singer, which is currently invisible under the piles of stuff on top, a small plastic drawer unit containing more patterns and habby-in-waiting.  A bag of overlocker threads which are supposed to be upstairs, and a half-finished Victorian petticoat shoved under the Singer.
Under the dining table, two more sewing machines, a crate of fabric I sorted out in the summer to sell on FB [still not photographed or listed], two large boot boxes containing the rest of the stuff for the temporarily abandoned cathedral window outfit and some pieces of leather and faux leather to help them not get crushed.  There's a box in the corner with various rolled up large PDFs, drawing paper, and other rolly-things.  And some dud peacock feathers I bought which turned out to be useless, as the fancy 'eyes' had been cut off.
ON the table, 'normal' sewing machine, new fancy one, and [usually] the overlocker, currently sitting propped on top of a Xmas decoration box which we haven't put back up in the loft yet…
On the windowsill, usually my cantilever sewing box and a few other boxes with bobbins and so on, plus a file thingy for patterns-in-progress as well as a box with calculator, stapler, drawing pins and so on.
AND the iron and ironing board, pressing gear and…and…and.  All that in a space which can JUST fit 6 people round the dining table if you take the treadle machine back out.  It's minute.
Time for a spring clean, or blitz which is more to the point.
I started by deciding to sort out the ribbon/lace/trim unit from the box room, so brought it down and blitzed it back into shape, so it's currently sitting on the windowsill where I can add anything else that comes to light as I work through the chaos.  It now looks lovely.   All the little bits of discarded trims and fabrics have gone into the large carrier which will provide the stuffing for the Closet Case Files pouffes I am going to make very soon…
Next stop, patterns.  A while back I made a spreadsheet of all my patterns…but the file has vanished [probably last time my PC died and we only recovered SOME files.  I had to start all over again, this time saving to an external drive.  I began by re-typing everything from the previous print off, adding in all the pencilled on purchases, and put it into order, including even adding notes to things which had stalled at the toile stage etc.  I NEVER do this as I go, it's not how my head works.
I'm pretty certain there are a few more which have been bought and either stashed or used without listing them, so this list can only grow at the next stage, prior to an attempt at a mini-kondoing.  The relatively small percentage of patterns which I have NOT made up, will either be made up this year, or discarded.  Patterns I HAVE made up but which will not be made again, are being binned [well, recycled anyway]  No point passing them on as I always cut my patterns to my size.
At THAT stage, with those items re-housed, I expect to gain a drawer or two which can comfortably house my steampunk accessories in a  more accessible manner than the current shove-'em-in-a-boot-box method.
I'm a slob, so even when all this is tamed, it will soon start to regenerate into a blob, trust me…
There, now I've shared my shame, I HAVE to improve the chaos!