You know, that wardrobe voice that tells you something looks good when it doesn't?  Or that it doesn't when it does?  That it fits when it's like a sausage skin, or that it's a sausage skin when it isn't?  Not to mention the lying damn mirror!
I have a nice collection of clothes these days, and yes, a pretty full wardrobe, but very few things I make these days fail the test of time, so now and then I have to stare hard at the few items that are lurking unworn, and decide what to do with them.  I have no truck with this nonsense of 'if you haven't worn it for a year it has to go', I like a more fluid approach to the way I dress, especially now I finally feel I have some sort of personal style.  So how to stop my wardrobe from breaking apart at the seams as I keep on sewing?  I have to try to exercise a critical eye…
I think I have a pretty realistic body image, even while I occasionally still pine for my skinny days, when I could have made up a good old size ten from any pattern company without fuss…but those days are LONG gone!
I'm short, stout, broad shouldered, with narrow-ish hips and a flat bum.  My legs and torso are reasonably 'normally' proportioned, and I know [now] how to cope with my boobs when it comes to pattern alterations.  Some styles just don't work on me, and some colours are a no-no [yellow and orange…and beige, ew]
I still get it wrong sometimes though, and end up with the worst possible combo- a gorgeous fabric made up into something that just doesn't work on my body.  These are the things I find hardest to get rid of, and they lurk in the wardrobe, glaring at me, while I lie to myself about being able to wear them one day.  I am still good at lying to myself!
I did some staring and muttering last week, and managed to thin out a scant half dozen items:
Item #1-Vogue 8593 in a delicious black merino jersey.  I made this before I started blogging, and it was my go-to 'funeral dress' for a short while, but I always felt that the sheath style was pushing it a bit with my fat belly, so I would squeeze myself into some sort of control underwear, and feel trussed up and uncomfortable.  I also [at the time] thought the neckline was a bit high.  No wonder it went back in the wardrobe after  a couple of wears and has stayed there ever since.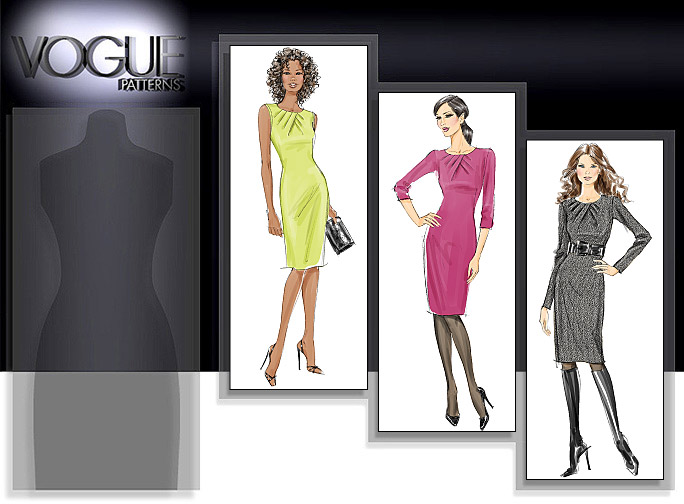 Merino jersey is so hard to find, and this is so lovely to feel, that it has been impossible to get rid of it.  Ridiculous.  I took it out and stared hard.  Nice enough, but what the fook is going on with that 'invisible' zip at the back neck?  My zip insertion talents never were very good, and this pre-dates my current understanding of iron on stabiliser tapes and so on.
It doesn't even need the ruddy zip!  I brought it downstairs with the intention of cutting it off to sweater length, and maybe using the excess skirt length to make into a separate cowl collar…then I slipped it on again and you know?  It looks OK.  Not fabulous, I obviously don't have that hourglass shape that most people who've made this have, but I think I'll be happy to wear this as it is, with a slip and maybe a long coat or cardigan over it.  That zip's coming out though. Or maybe I should still shorten it?  What do you think folks?
Item #2-Vogue 8434 tunic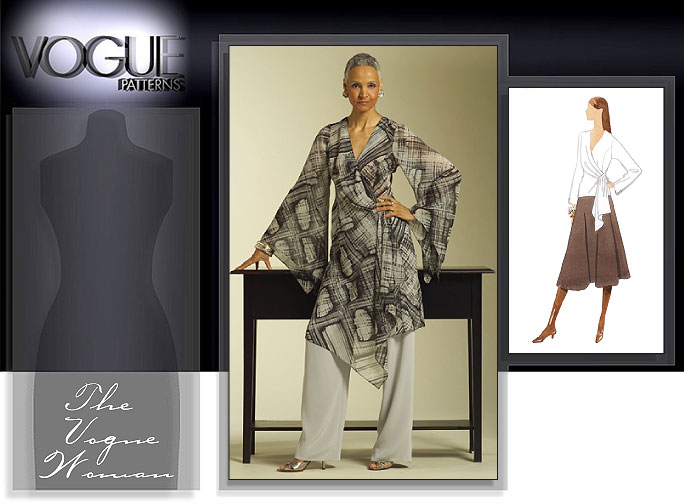 This one had been in the collection for ages, I made it up for the missus some years back, but loved those sleeves so much, I had to haul it out for last year's SWAP collection.  I got a lovely vintage silk sari from eBay, and got to work.  It's beautiful, but has not been worn, not even once.  The sleeves are just too much, I feel as though what little shape I have is swamped, and although wrap fronts used to be my favourite thing, they don't like me any more!
Too lovely to bung in the scrap heap though.  Perhaps the gorgeous sleeves would transfer onto a black knit T?  And if the tunic is left sleeveless, maybe it would be wearable over a slim black T?  I think I have to try.  Sigh.  All those french seams [remember how I had to insert the sleeves several times?]
Item #3- wrap shirt in Liberty lawn
I think I threw this pattern out a while back, but for some reason kept the shirt!  How odd.  The fabric is gorgeous, the first Liberty lawn I ever bought, and the body is underlined in lawn too, lots of french seams and care went into this, so it must have been made after my return to sewing 7 or 8 years ago.  My previous attempts were way more casual!  I attempted some sort of bust adjustment, but did a godawful job of it, and this has never really worked with its original long tie sash or with my attempts to fix it afterwards.  I think it's just too short- I don't tuck things in, and don't have a waistline, so it cuts across my gut and looks horrible. Maybe I could put in a front seam to produce a slip-on blouse?  Or make it into a button-front one… [see the original long sleeved version in the header image]
Item #4-  By Hand London 'Anna' dress in denim
Also pre-blog, and worn a couple of times, but made before I realised that avoiding an FBA in a woven is not a good idea.  It is unflattering, but the denim is good quality, so I think I will cut it down for a simple skirt.
Item #5- Simplicity 1612 open back dress in slinky bottle green jersey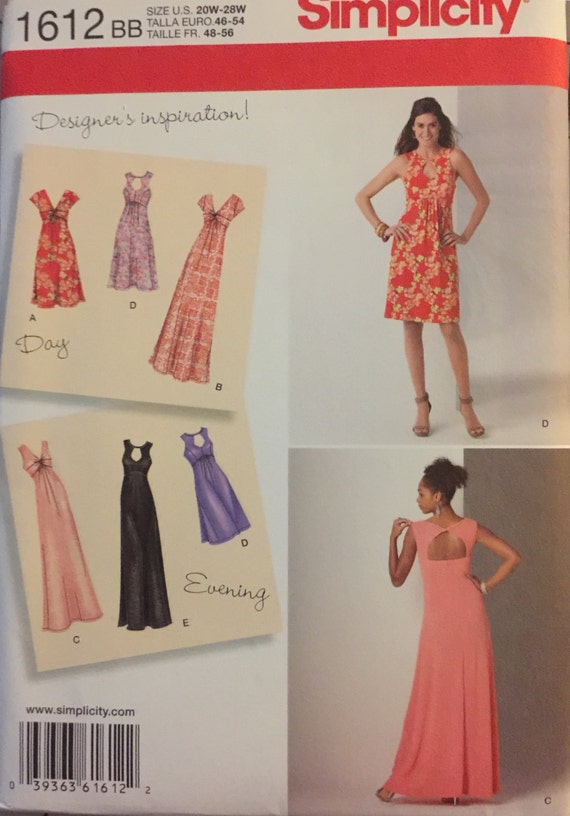 Stunning, evil fabric.  EVIL I tell you.  This fought me, and was a horrible choice for the dress, and to be honest, the dress was a horrible choice for me- that keyhole back is not bra friendly, and it's only ever been worn once, with much fidgeting and fussing.  The fabric is luscious though, so perhaps my improved sewing/stabiliser skills will let me get a t shirt out of it?  I think it's just too slinky to unpick and try to put a plain back on it unfortunately [I bet I still have the remnants of the fabric upstairs…]  I'm binning the pattern itself though.
Item #6- Vogue 8768, my 1950s MOB dress in peacock coloured silk
A LOT of work went into this, the bodice is underlined with silk organza and lined with cupro, the skirt is underlined in a mock Hong Kong finish, I had lots of help in getting it to fit my matronly shape, and tons of careful work went into fitting it onto the narrow silk, and matching the pattern down the front seam I had to introduce…  I felt great in it on the day, and to my amazement it still fits…but I definitely look matronly in it and need to reclaim the skirt at least. 
  [The MOB coat which was from Vogue 2859, a 1930s pattern, also in peacock silk, actually works beautifully over jeans, or, as I wore it just this week, over a plain black straight skirt and top for work.]
So there you have it- hopefully I can report back fairly soon to report the salvation of at least one of these babies…