SWAP garment #4:  Style Arc Victoria Blouse, in a teal viscose twill.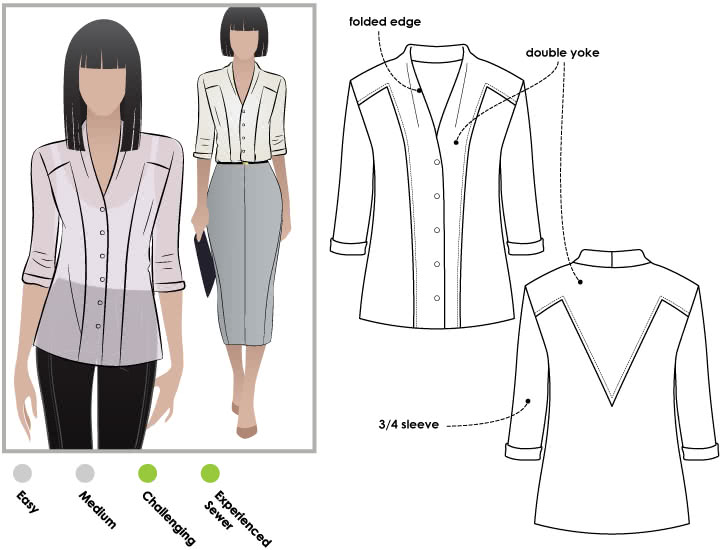 This was an EPIC job of cutting, as the pieces would not fit on the folded fabric, and I had to mess about for ages to fussy cut it out of what I had- there's only one piece you could get away with cutting from a lining fabric [inside back yoke] as the front facings are folded, as are the cuffs.  I got there in the end after the usual quantity of swearing.
Now, as we know, Style Arc instructions have improved, but are still minimal, and I knew that those points and v-shapes were going to be tricksy.  I originally planned to fold under the seam allowances and overlay them, but it's too fiddly for that as you have both convex and concave turns, so I just pinned  a lot, sewed slowly [thank you speed control on the new Pfaff] and didn't do too badly.  Good job I'm not  a perfectionist though!  Nothing a good steaming wouldn't fix.
So in one sewing session I got front and back yokes attached, and set it aside to complete later.
TIP:  when you stitch the yokes together to sew as one piece, do your zig-zag edge finish or whatever before trying to assemble the pieces.  The seam allowances are too skimpy to mess with an overlocker round those points and turns.  I zig-zagged the yokes, left the bodice pieces unfinished, pressed all seams away from the yoke and top stitched down so the raw edges are covered.  Looks fine to me, and minimises bulk on this drapey top.
Having got everything but sleeves and cuffs done, the instructions helpfully pointed out that I COULD have opted to clean finish the yoke area.  Thanks Style Arc, too little too late…
The cuffs are bias cut [this blouse would be fab in a fine drapey striped fabric] which makes them very comfortable, no elbow grabbing.
I love the finished blouse, the Pfaff made very short work of buttonholes, and I only have minor complaints [which will be OK when I make this again.]
That inside finish is not to my taste, too tatty.
The whole thing, as it turns out after all that fussy cutting, is longer than I think I need, which is why I've tucked it under in a  couple of the pics to more of  a blouse length.
Why is everything designed with a longer back?  And why do I never remember to shorten it at the cutting out stage?  Jeez one of my only redeeming figure points is my bum, I might as well show it!
Apologies for the wrinkliness of the shirt, I've worn it to work all day.  It also seems to have slipped back off my shoulder in a couple of the pics, I can assure you it doesn't sit like that really!
I've also included a couple of pics with the Nina cardigan, which is a near-perfect colour match, and made me very happy…Style Arc rocks!
I forgot to mention, of course you can't make out the lovely V style lines in this fabric, which makes it all a bit of a faff for nothing I suppose, but I don't care.  I will be making this in something plain next, so the Vs will show up!