Tin woodcutters, both girls, both VERY slim.  Before I volunteered to make costumes, the director had already bought a tinman costume from Amazon, very cheap, and it looked it.  I wasn't impressed, as I don't really like very shiny tinmen, he's supposed to start off rusty, and decided to find some inspiration images for myself.  The silver boots she bought are great though!
At Barry's warehouse I found this delicious liquid stretch fabric in gunmetal on the bargain tables, and then the lovely Kim [Material Lady] gave me a couple of metres of a silvery crinkle poly.
I stayed with the simple bodice I used for the Glinda costumes, [B6016]  but cut a semi circle skirt [just a tiny bit of maths and playing with a scrap of paper] to make a cone shaped skirt, which hase a hoop in the bias bound hem.  Much cuter than a cone hat!
I've been itching to make up the cool 'armour' on this Simplicity 8363 pattern, 'Fantasy huntress'
I went for two sleeves using the stretch silver fabric but with the 'bodice'underlined to support the light boning in the back neckline.  There was to be craft foam  'armour', but look how it arrived from the Bay of E!
After several messages offering partial refund, I'm getting a replacement but may not now bother with the armour…for this costume anyway.
Scrap ribbon from stash for the back lacing.  Isn't it lovely?  Tin man #2 was cooing and purring over the points on the sleeve cuffs….
I made two dresses, but only one neck corset, too much work otherwise!
Neither dress needed much alteration after one fitting, I raised the waist to shorten the bodice on one, and took the other up on the shoulders, otherwise they fitted great almost out of the packet!
Plain grey poplin for the binding to make life simpler- not wanting to play with the stretch OR the crinkles on the bias!
Now for the headgear- inspiration struck!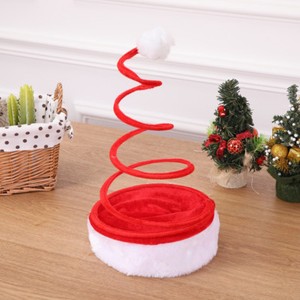 Why not?  A nice silly silver 'spring' attached to a plastic headband. The other option I found:  cyberlocks, basically tubular crin, very popular amongst steampunks and cybergoths… like this. [This is the one we went with, easily bought from eBay]]
Both girls look great in the outfits, and like them way better than the cheapo Amazon version…I do too!
I wish I could share the smiles on their faces…