Emerald City- 8, [later changed to 7] extras and dancers, one doorman, one guard.
LOTS of donated and scavenged and stash-dived green fabrics, including miles of acid-green satin from my lovely bridesmaid Glenda.
I spent a considerable amount of time arranging and re-arranging these fabrics into piles to get a pleasing range of textures and tones.  Amongst the donations, and found in the props/costume pigsty cupboard, I also found a couple of pairs of green salwar trousers, a stunning mint green lengha skirt, a matching heavily beaded top, and a leaf green sequinned kameez.
I re-organised the measurements of all the kids [all girls except the doorman] by approximate size, checked which of the extant garments would fit who, and rearranged all the fabrics again.  I got out all the patterns which cover small sizes, and did some more thinking and faffing.
Eventually I got going on the simple sewing- mending the crotch of one pair of salwar, making a couple of simple elasticated waist skirts with a scarf, the bottom section of the kameez, and lots of net, and letting out the beaded top which turned out to have been [badly] taken in about 4″ either side, with all the excess fabric left bunched up.. MUCH better once let out to a generous 40″ bust!
Then on to the cutting out.  Here are the groupings of fabrics I produced for the 8 girls, including the extant pieces.
#1:  beaded kameez, [extant], with plastic-y foil trousers [backed in cotton sheeting for comfort] using Simplicity 4149 and glitter net overskirt, just a gathered rectangle.
#2:  green salwar [extant] with top made from a scarp of neon poly, overlaid in crystal organza.  A tiny cast member, playing the wizard's guard [so will still need a hat], I used B3351 in a child's size 8, and just added a little length.  This was the pattern I used for my grand-daughter's bridesmaid dress 7 years ago.  It's still loose on this tiny 12 year old!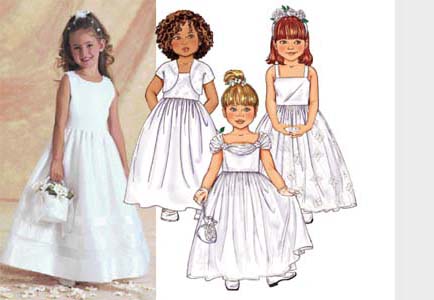 #3:  The top of the leaf green kameez had the sleeves cut off and replaced with ones from Vogue 7733 view A, using a turquoise georgette scarf.  I last made this pattern up about 11 years ago for my lovely missus to wear for our 2nd Vampire Party.  Grr-owl.  The skirt is from Simplicity 4149, and has an elasticated waist and 4 flared gores.  After consideration, it needed to be shortened considerably to enable the dance moves!
#4:  acid green satin and gold glitter mesh overlay, using B3351 for the third time, adding a circle skirt.  I also made a bolero jacket [as this girl does not like to expose her arms] using M4450 in the satin only.
#5:  leaf green kameez bottom section made into elastic-waist skirt with 2 layers of stiff glitter net, top from a scrap of green stripe jersey overlaid with glitter mesh and bound with satin.  This is for one of the tinier cast members, so I used B3351 again.  This time, the 'plain' version on the left.
#6:  acid green satin salwar [extant] with top from Vogue 7733 view C this time.  I used some emerald green taffeta leftover from my very first steampunk outfit for the top, and half a silk shawl for the peplum [not the chinese brocade pictured here, which I used on #7].
#7:  mint lengha skirt with mesh overlay, top from jade green stretch velvet [VERY deep stash dive, maybe going back about 30 years for this one] combined with more of the chinese brocade.  I used the sleeveless bodice from Simplicity 7440, which I bought 6 years ago for my own daughter's bridesmaid dress, before she fell out with me and boycotted my wedding.  I had to order this from the USA, so at least it gets a use at last!
  This one caused most trouble- I'd made up the brocade bodice, and cut out the shawl collar pieces in an ancient remnant of stretch velvet.  Pinned and  pressed at work, and intended to sew it up at home.  One shawl piece [the large one of course] wasn't there.  I assumed I'd left it at work, cursed, and checked the nextmorning.  I upended multiple bags and boxes.  Nowhere.  I assumed that it must be at home, and had perhaps slipped down the back of the sewing table.  Home again, upended EVEN MORE bags and boxes.  Swore mightily.  Back at work, one final upending resulted in total void.  More swearing, then I used a silk scarf to cut out replacements.  I put them to one side and turned to cut out the absolute final green item…and the ruddy collar piece fell out of nowhere right in the middle of the table.  I stared at it HARD.  It did not apologise.
#8:  Dark green sequinned scarf made into elastic waist skirt.  Top made from blue sequinned fabric, overlaid with green and teal crystal organza, M4455, view B.  The sequin fabric was EVIL and they kept melting onto my machine needle and gumming everything up.  Never again!
Not bad!
#9:  For the doorman to Emerald City, I found a couple of things in stock, including a rather nice tailcoat [filthy but intact] and a lime green bowtie.  I thought of various options, including painting the jacket or overlaying it in one of the mesh fabrics, but in the end decided to leave it black but trim the hell out of it with fabric and ribbon oddments.
Chanelling The Hunger Games' Capitol City fashions we added big hair, over the top make up, and sunglasses to be in keeping with the original source.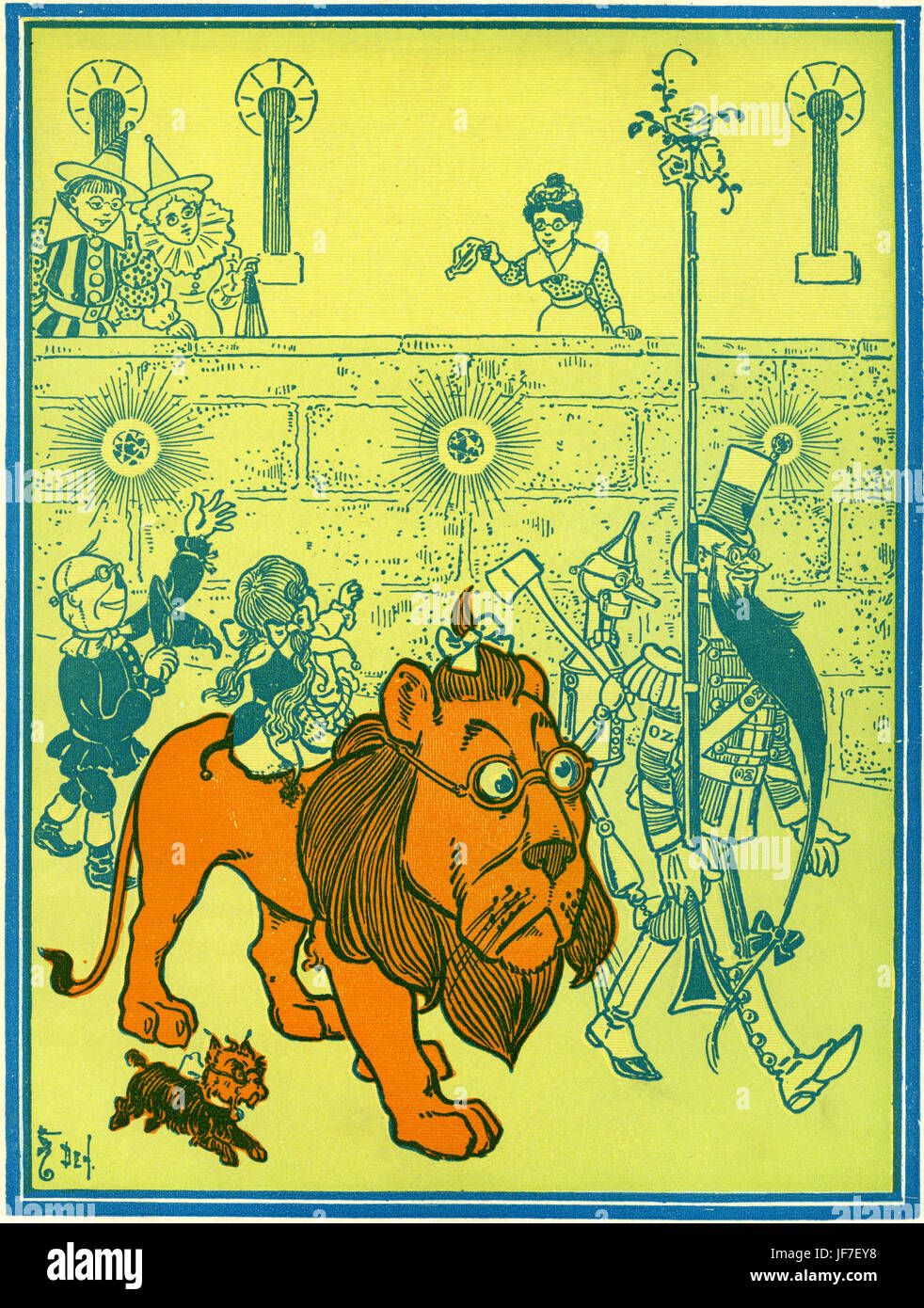 I learned to make simple fascinators with scraps of wire, elastic bands, and…bottle tops.  Here they are [the first four anyway] before I glued the headbands on.  The kids love them!
And there we have it.
Unfortunately only 5 of the 7 turned up for a photo call today, but it's a start!
As a bonus, here's the same dancers in their Munchkin outfits, with other cast member getting in on the act…
Such a pity I have to cover up their grins!