Michael Miller Otter print cotton [from Frumble of course], and yet another Jennifer Lauren Afternoon blouse.  Must make one up as a dress I think….
No fuss, no frills, I can knock these up with barely a thought.  I do stitch the front down below the Vs as I find it gapes a little, and I'm not wild about the flatness of the curve at the back neck edge, which pivots rather sharply into the front slop…it could be more gradual and easier to stitch.  However, a nice, cool blouse, vaguely nautical, but with those charming little otters- the ones that are waving are so damn cute!
I added 2 vintagey-looking buttons, which you can barely see, but hey ho.  The pattern uses one giant button, too cutesy for me, and I like the symmetry of using 2…and it stops that underlap pointy bit from flapping about too.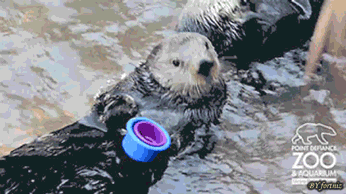 No attempt at pattern matching, the stripes are quite irregular, and I didn't have enough anyway.  I also didn't bother to interface the neck edges, the cotton seems quite firm, and I didn't want any extra bulk. I may regret this, but I have understitched which gives some reinforcement.  I hope.
Simple zig zag finish inside
The trousers are of course my summer favourites from last year's SWAP collection-Kathryn Brenne's V9114…
…and the sandals were an eBay snip at just £3.50!
I have been steadily sewing some simple items, and just need to get some photos taken to post them here.  It's been too hot to change clothes… but I have made a lobster.