Truly Victorian TV163 'Imperial Tournure' or lobstertail bustle, and pocket hoops aka paniers [one 'n' only]  from the sewalong on 'The Dreamstress' blog
I've made a couple of the lobster tails of course, and made some pocket hoops years ago, can't quite remember why, but on that occasion I used the guidelines in 'Corsets and Crinolines.
As you can see, these are basically much the same contraptions, having a flat piece which rests next to your body, supplying the tension for the wires/canes/steels.  The lobstertail is of course much larger, and the tensioning inner piece is just a rectangle, open at top and bottom.  the pocket hoops are, well, pockets.The ones I made years ago have a shorter inner piece, so you could [should you want to] gain access to the pocket from inside …not very practical.
These fabulous items of underwear were commonly used in the mid 1700s, and are 'informal' in size and shape.  Full court paniers were like  a VERY wide crinoline hoop, tied into a sort of kidney shape.  The most mahoosive ones I've ever seen are at the V&A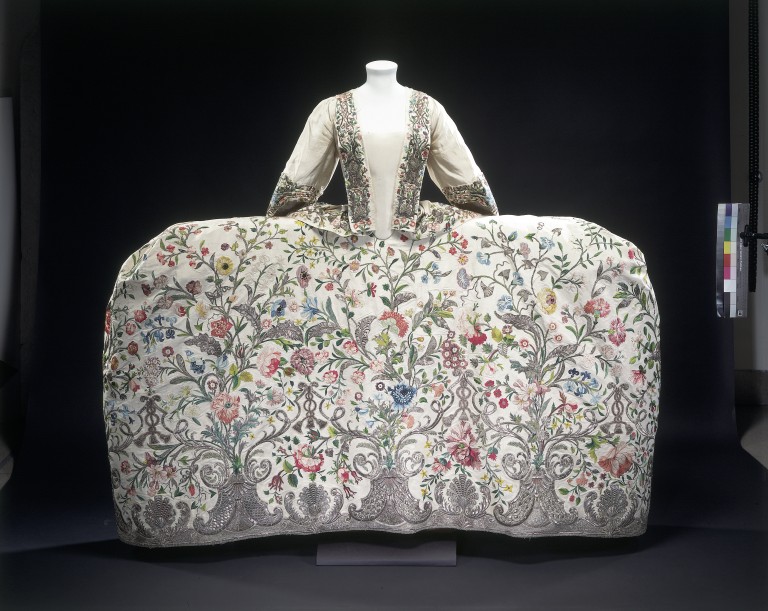 Pockets were not part of a lady's dress back then [not much changes eh?] but were little bags, often deliciously embroidered, which were tied round the waist under the dress, and were reached via discreet slits in the skirt.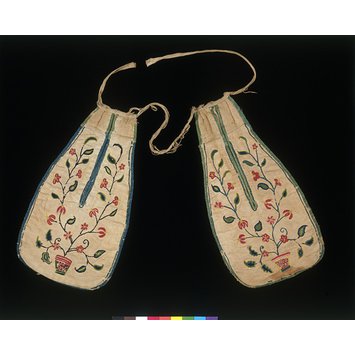 The Dreamstress' tutorial makes a sort of combination- the pocket hoops are completely closed on the inner side, and you make a slit in the top to get at any contents.  You'll see why I chose this style in a bit…
I really like the Truly Victorian patterns, although there are quite  a few tutorials for DIY versions of this, as you know I hate drafting, so this suits me fine!  It comes in multiple sizes, on heavy paper, and is perfectly drafted to fit any waist size you might have.  I previously made the 'imperial' bustles, which stick out more, but went for the smaller version this time, as it fitted on the oddment of red crimplene-like fabric I'd been given, once a curtain.
I re-used the steels I'd had in the tin 'man' costumes for the school play, which had been removed for washing in any case.  I fortunately also had loads more plus twill tape for casings in stash, so these cost nothing other than time.  Neither take much of that either, once you have the casing lines transferred [I used pins and chalk]
So, why am I making them anyway?
In the panto, when the pirates arrive on Treasure Island, they meet a Truth Lobster, who raps a skit on 'Gold digger'.  Just ride with it.  SO I decided this lobster will be in red top and trousers, trainers and bling PLUS a lobster hat [next post] and a lobster bustle. And claws of course.  'Cos why not?
Both went together with minimal fuss- the red crimplene stretched a bit though so I had to take it in enough to give enough tension on the steels.  All steels cut easily with my aviation snips, and I 'capped' them off with insulating tape.
The dame, Doctor Livesey, is a drunk in this version, and I thought it would be hilarious to have her produce various bottles from her pocket hoops, or any medical equipment needed.  They are in a virulent yellow satin, because I have plenty left from the munchkin costumes [also donated, not purchased].  On these I put the black casing tape on the outside to get a crazy bumble bee effect.  I don't know if they will be seen, depends on how the rest of the costume comes out, but they make me smile, which is reason enough.  The waist tie is a piece of vintage petersham, folded lengthways and stitched down.
FUN!
I showed these off at rehearsal this evening, and everyone seemed well chuffed!