…or maybe not lol
Bombshell swimsuit, Closet Case Files, in bright blue swimwear lycra, powermesh lining.
I attempted a swimsuit a while back, the 'Alison' as I recall, which was getting great reviews…but it was HORRIBLE.  So bad I never finished it, and was greatly relieved that the fabric was one of my rare online purchases which was a waste of money…very scratchy and unpleasant to touch.
Then I sat back, grumbled once a year that I didn't have a proper swimsuit any more, and let things slide.  LAst year I had to wear shorts and T shirt to swim in, and looked a right tramp, so when we booked a weekend at the beach again this year, I got sewing.
FAIRLY successfully.
I went for view B with a non-ruched bum.  The instructions are very good, although sewing could be a little faster with some of the steps swapped about a bit, but it came together very nicely.
I finished it, slipped it on, and huffed about a bit in front of the mirror.  Hmmm.  My non-bum meant the bum looks a bit big, and it doesn't grip around my hips and thighs quite as snugly as it might.  That front plunge is VERY low, and I debated various fixes:  putting  a little modesty triangle in, moving the cups a little closer together in the middle, taking the top off completely and adding an inserted 'waist' band etc etc
I thought about laboriously unpicking the leg elastic and taking it in at the hips…
So it went on the 'fix it' heap and gradually got covered with tons of other half-baked plans.
Until last week, when I slipped it on again, huffed and tugged, then decided 'meh, good enough' and slung it in the bag.
So, full road test on the beach and in the sea, including changing into it on the beach in the time honoured 'wriggling under two towels' method.
It did not sag or bag when soaking wet, the lining is excellent and nothing goes transparent. The front skirt bit, being NOT under great tension across my hips, did sag a little when wet, but no big deal.  That plunge front is fine when standing or swimming, or when safely fully on back or front on the sand…but if you are propped on one side, watch out for escaping boobage.  I narrowly missed taking out the eyes of passers-by several times, poor folk.  Sorry to visitors of Aberdyfi and Borth!
I had hopes of looking as lovely as this
but as usual, my weird combo of big boobs, huge belly, slim thighs and no hips means I look like a lycra draped barrel of lard on sticks.  Sigh.
I can fix this one, or just make another, but I would go for the alternative style, with smaller sizing on the hips, and more leg elastic.  The body part needs to either be cut to come higher, or have the inserted waistband to bring it in above my gut, so that the cups can stay round my boobs more efficiently- the top little gap kept rolling out to show lining, which irritated me.
Meanwhile, I have grabbed some more swim lycra and another pattern:  'First Crush' from Rad Patterns, not a company I've used before.
I have no idea if I'll make this before NEXT July, but who knows?
Meanwhile, back to the evidence your honour.  I apologise for any damage to your eyes, and hereby offer you a little eye candy in compensation before forcing the horrors of my blue beached whale look into your eyes…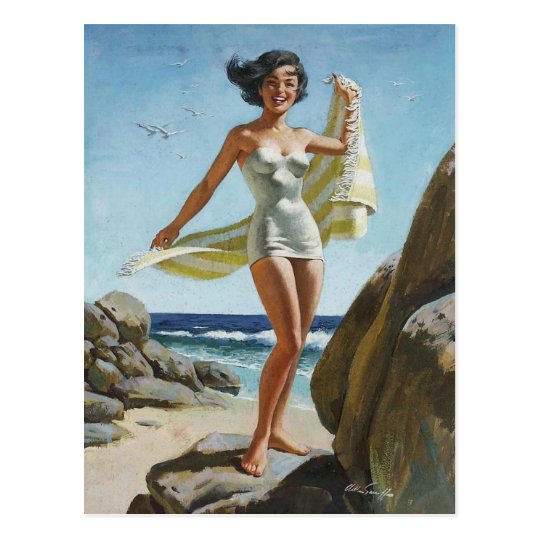 The horror!
On the positive side, it did the job, was easy to get into under a towel, and no one actually ran screaming from the beach, clawing at their eyes.
My apologies!  Have another Hilda as compensation