No, not that…
…my sewing club returns for a new start!
Last year, I gauged enthusiasm for a sewing club at my new school, and found staff and students alike were quite enthusiastic.  I eventually trialled it as a once-a-week lunch club, and it ran successfully for the rest of the year, numbers fluctuating from time to time, and eventually the die hard enthusiasts were turning up every day, even when I had to go elsewhere, getting their sewing out and cracking on.  Very nice!
At first, time, space and cash restrictions [none of any] made me decide to stick to very basic hand sewing skills, so I took in a few yards of cheap curtain lining fabric and showed them how to make sure they didn't cut their thread too long, how waxing it makes it easier to sew, how to enjoy the thrills of my desk top needle threader, and how to make cute little drawstring bags.
the ones who stuck round til the end also learned how to do a lovely neat hem, they were VERY pleased with themselves.  Some made several bags, and they were soon all teaching newcomers how to get going.  We even insisted on french seams throughout.
I have no pics unfortunately, they whisked the bags away as soon as they were done, and we are heavily discouraged from taking pics of kids on our own devices of course!
Towards the end of the school year we discussed what the new project should be, and having been given two old machines by the lovely Material Lady, and having 2 unwanted ones myself, we can progress to 'real' sewing.
I decided that very simple drawstring or elasticated trousers would be the way to go, as they already have the basic knowledge from assembling their little bags.
I ambushed the head and he is giving me a small budget for fabrics and habby, as well as a photocopying budget so eventually we can go with some PDFs for the kids to assemble for themselves.
For starters, I want to quickly show them how to follow a simple commercial pattern AND a simple online free PDF tutorial, so I found the latter on Martha Stewart's site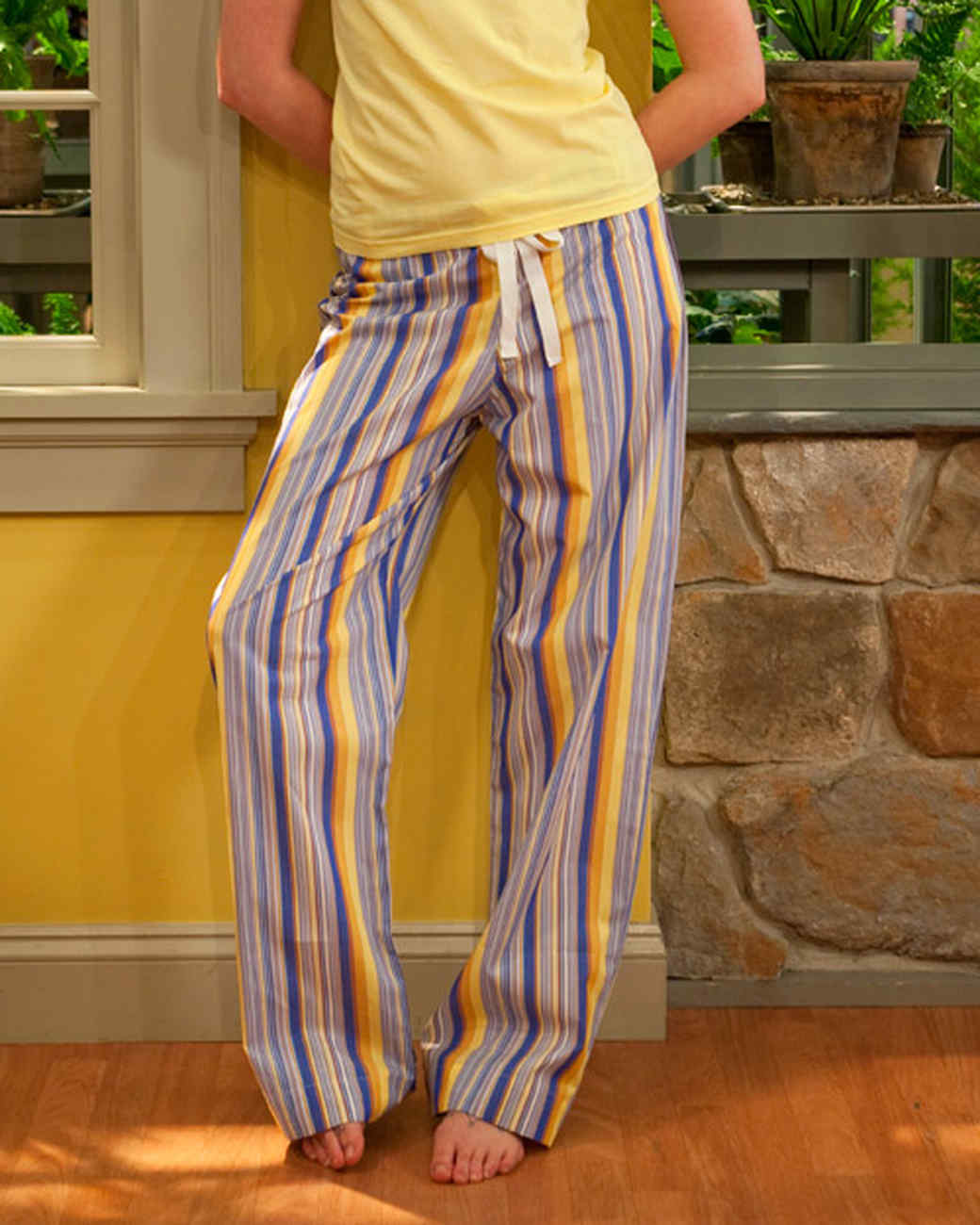 then I went to hunt out trouser patterns online and found these two, both multi-sized [obviously very important for use in school!]
Simplicity 2290: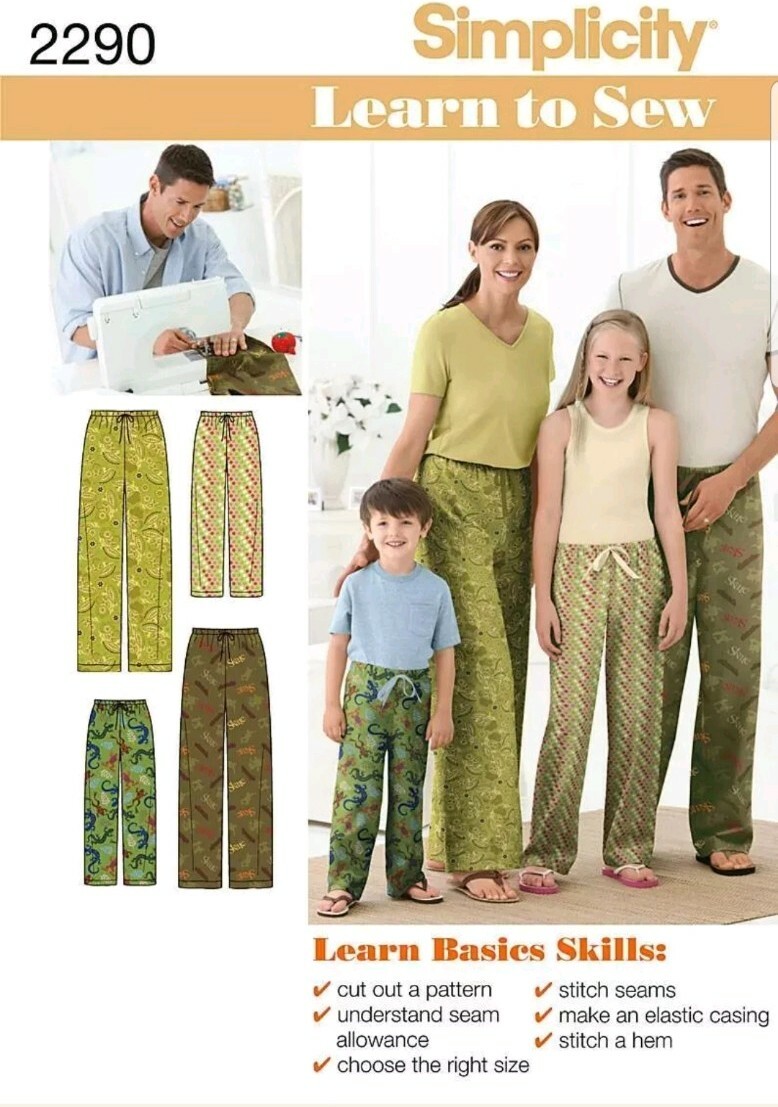 ..and for those who want more of a challenge for project #2, Simplicity 8390 which I think looks very interesting!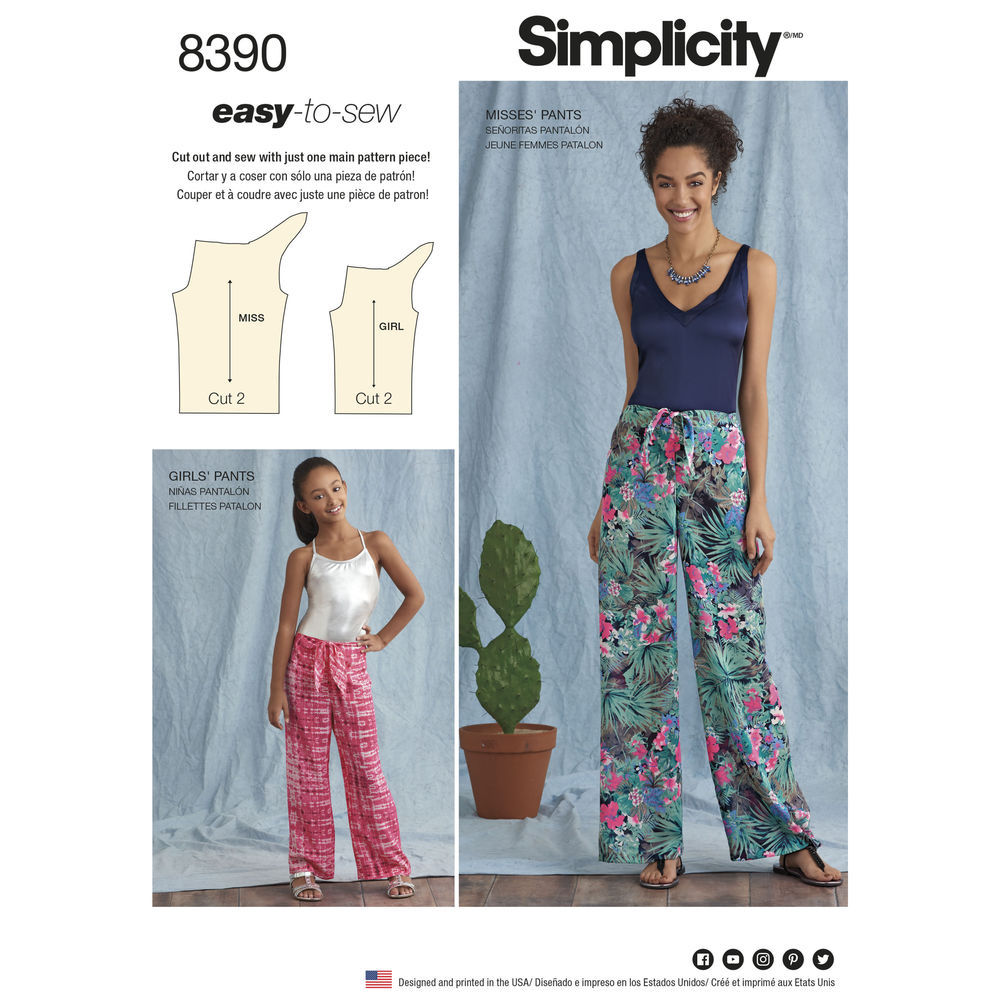 Off I scampered to the rag market, having asked some of the kids what colour fabrics I should get.  Most just said 'bright' some specified shades, so for economy's sake I opted for miles of poly-cotton sheeting from the Rag Market.  Red, green, blue and yellow, 100″ wide.  I got 2m of each at £3/m.  Then inside the markets I saw these lurid orange and pink beasts, not as wide, but only £2/m.  Another 2m of each then.  So 12 metres of fabric, some more-or-less matching cheap thread, a large roll of elastic from eBay and we look good to go.  I should be able to get at least a dozen pairs of trousers out of that lot, some might even be brave enough to try some simple piecing for rainbow trousers!
The first session will just be talking about the fabric grain, maybe a brief demo of different types of fabrics, then we can start prepping the pattern pieces.  Bugger tracing, I don't want them bored to tears by slow progress, we'll be doing this Fairy style. They can learn to be fussy once they've had some simple successes.  I remember too well being put off by school sewing classes where one garment took a whole year to complete!
They can also assemble the Martha Stewart patterns which I've had printed out three times so all three sizes can be cut separately.
Should be fun!