Shirts shirts frilly pirate shirts.
Just 9 cast members, most with one costume only, still means a fair few shirts.
Requirements- Long John Silver, Cap'n Smollett [my Gentleman Jack inspired outfit], Jim Hawkins [going with the Harry Styles look], 2 sidekick pirates [one 'snobbish' one 'sexy'], tattered for Ben Gunn, scruffy for Bones, plus two wenches [one for the Dame]
So I got cracking, having scoured the local charity shops for curtains with useful linings and some sheets:
Ben Gunn got a very nicely faded, very softly washed striped shirt from a charity shop, ripped appropriately.  Half an hour snipping off tabs and adding tears, sorted!
Simplicity 4923 seemed like a good investment, shirt, waistcoat, breeches and coat, and even FAIRLY historically accurate [fall-front breeches for instance].  Bones & Silver got coats from it, Silver, Ben Gunn and Smollett got waistcoats, Gunn & Smollett got breeches.  Good value for money!
Wonderfully voluminous this one, and only modernised by means of slightly shaped sleeves rather than rectangles with gussets under the arms.  Fairly straightforward to sew despite lots of gathers.
Pirate 'Israel Hands' got a snazzy purple version from some tie-dye-look stuff from Barry's warehouse [maybe viscose, textured, crinkly, very effective-she loved it!]
Long John Silver got a 'plain' version in vaguely yellowed curtain lining,  but I added the sleeve ruffles as an afterthought, so instead of being neatly sandwiched between the cuff pieces, they were just sewn on afterwards.  One tie at the front, no interfacing, simple button cuff.
Captain Smollett got the same shirt in  a sort of pale pinky-beige lining, collar slightly stiffened, and some lace oddments that had once been on one of my 'Victorian' outfits, and turned out to be exactly the right lengths for cuffs and front.  I folded the wide eyelash lace in half, gathered it slightly along the fold, and zigzagged it in place.  Three blue ribbon ties as the suit is blue.
Billy Bones got a dead plain one, no ruffles lace or ties, he's only on for five minutes then dies!  Only issue was going mind numb making two shirts at once and sewing a sleeve on upside down.  Sigh.  His coat was from a velvety textured, stained and crumpled old curtain my mum thought might be useful.  It was!
The Harry Styles inspired on got an added jabot ruffle, from a free pattern I found with a fairly quick google search.  Very simple, very effective!  Apologies for the blurry pic, lighting in the pub rehearsal room was dreadful!
I also knocked up a couple of what the pattern calls a cravat, but I would call a stock- very quick and simple, fastened with flat hooks-and-bars…but this ended up not used, not to worry!
For the 'ladies' I brought out Simplicity 8285, the Lolita pirate look.  Both the dame [Doctor Livesey] and Captain S got versions of the jacket, and the dame's one was reversible.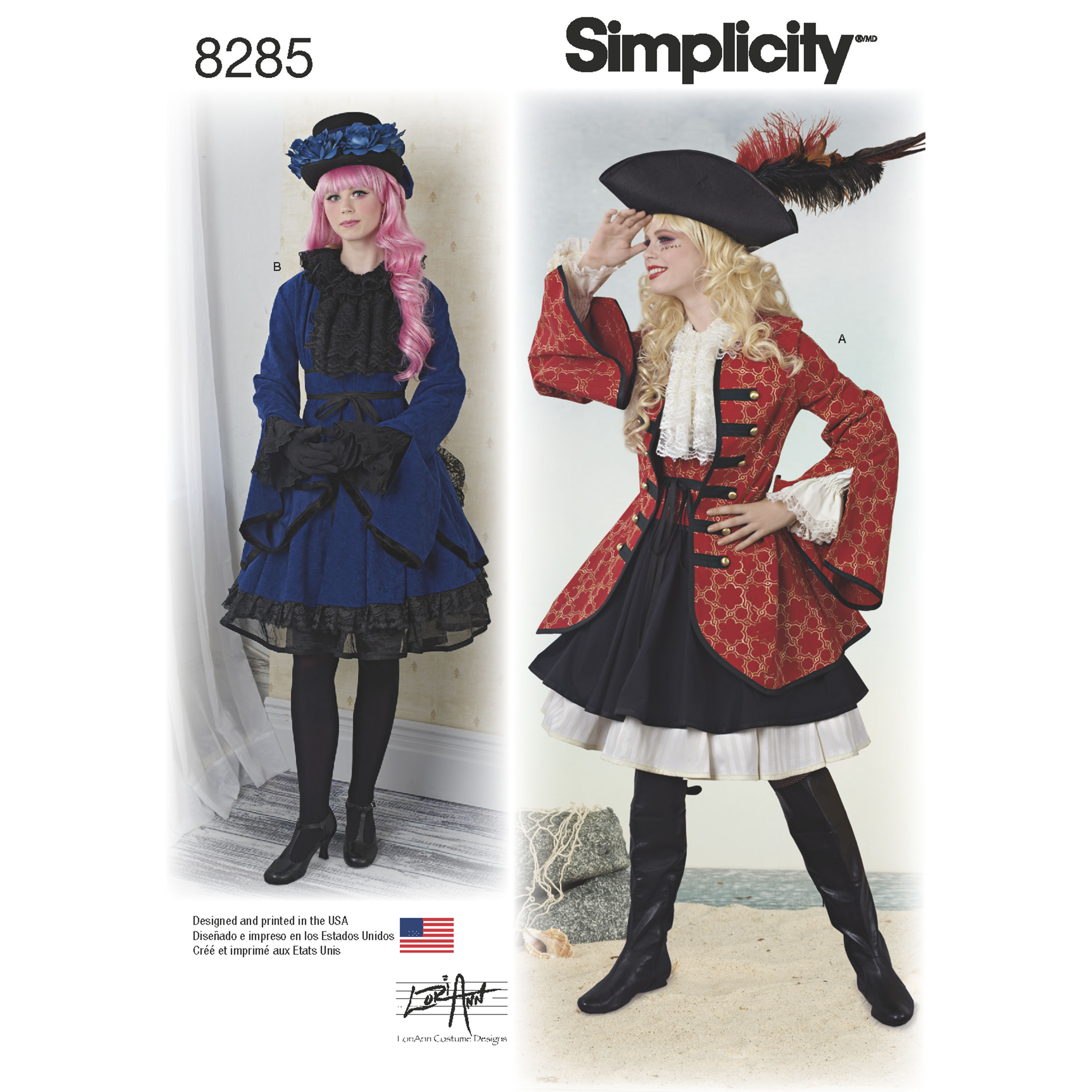 It has a classic simple 'gypsy' blouse top in it, so I whizzed up an elasticated version in some uber shiny pink/gold stuff I got from Barry's warehouse, then stuck a clashing bow on the front, because more is more.  That whole outfit was clashing pinks and reds, might as well make an impact!  'Corset' belt for the dame was also from the Lolita pattern, stiffened with cable ties, just a ribbon ties at the back, using an oddment of shiny brocade from a remnant bin!
Tavern wench got a plainer version, nothing much to say about it!  Her apron and skirt were from old duvet covers of mine, utilising the trim for maximum effect, minimum work.