Not that
or that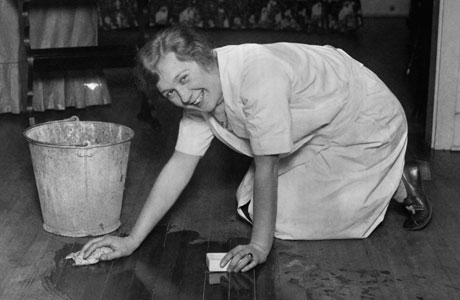 or her
and definitely not her
or them.
A lot of the 'For the Love of Scrubs' ladies on Facebook refer to themselves as scrubbers.  Not sure if they're mostly to young to get the meaning, or are having  a bit of a laugh at others' expense, but it made me smile anyway!
So that's where I've been.  It's boring, but worthwhile, and a good way to stop my brain from eating itself, while being productive in quarantine.
Dull and boring sewing/cutting leads to the occasional boo-boo.  While sewing in TWENTY TWO sleeves, 20 went in fine, 2 would not fit- either the sleeve was too small or the bodice too big.  But the OTHER sleeve on each tunic went in fine.  Checking the bodices against the pattern showed that ONE side of each front was a couple of inches too long in the armscye [I cut all of these out double, so maybe the fabric had folded under the pattern piece?]  Here's the corrected cutting line on each…pf course AFTER stitching, overlocking and topstiching.  Sigh.
I've spent a lot of time chatting on the FB group, answering questions, giving tips, and discussing logistics with admins.  I've sourced  a lot of fabric, but it's getting harder and harder to find the right stuff, at a reasonable price, and the right weight.  Sellers are getting wise to the demand and most are selling any old tat as being 'suitable for scrubs'.  they should be ashamed of themselves!
They are blatantly taking advantage of the fact that many, if not most, of the volunteers are very inexperienced at sewing, and really don't understand eg that for workwear, a narrow overlocked seam is not going to stand up to use, and elastic waistbands etc are not going to survive many 60 degree washes.  Ah well.
Suddenly, blue fabric is almost invisible, and now cotton herringbone tape is also disappearing- it's the best thing for trouser waistbands in my opinion.  I'll soon be forced to make miles of bloody self-fabric ties I suppose.
So up to date, I've made 19 sets, two for my lovely niece, the rest just generic size large, and on their way to be of use in the crisis.  I started by using what I had at home, so they have all so far been burgundy and dark purple, but hey ho.  Most of the hospitals have already said they will take anything, regardless of their current uniform practice.
Cutting out in bulk is fine, but sewing in bulk is deathly dull.  The first batches were of four sets, the last batch was 11..and I'm not doing that again.  You sew and sew and sew…and nothing gets finished!  Then suddenly, a pile of completed tunics.  Meh.
I've changed methods a bit as I go, and passed on my findings and tips to the group, which may benefit others, who knows?  Things like-
sewing the tunic pockets on level with the bottom raw edge and finishing pocket bottoms and hem in one pass
pre-pressing loads of pockets round a cardboard template [I got the wife doing that yay] and then finishing the tops in one pass to get a loooong pocket bunting strip [keeps them tidy until needed, result!]
sewing said pocket sides from raw edge up to top and back down for strength, all loose thread ends now in one place for snipping..
And so forth.
The 11 trousers and 11 tunics are currently drying on the line…so I get to press the whole lot fairly neatly before they are collected for delivery.  I've used REELS of thread already, good job I have a decent stash!
AND
OMG my Gofundme appealhas raised almost £1000 in a week!  BLIMEY!  I'm using all of it for fabric and any extra thread I need, and will be sharing the next 100m of fabric I get out with a team of 'sewing angels' who are being assigned to me, and can't get their own.
I am definitely finding that buying extra wide sheeting saves time on cutting and of course minimises waste, even if it seems pricey compared to the cost of, say, 45″ fabric…which is where the inexperienced are heading of course.  I can get a full set of large scrubs out of 1.3 metres of the good width, it takes 3.5m of the narrower widths.  Hey, I can do the maths!
I'm now sick of the sight of burgundy [and have no more matching thread] so will be switching to turquoise, bottle green and navy next.
Meanwhile, the missus has been busy in the garden.  She's built us a beautiful new seating area [no cushions yet though]