#MayWriteABit 2020 #5
A day late, but hey, the thought was there.  Random ramblings from 'Captivity':
Lockdown continues, and every day is a weekend.  I'm a pretty self-contained old bird, I love messing about on FB, reading, sewing, cooking, eating, hanging out with my wife…so this has been no great burden to me.
[1]Exercise schmexercise.  I have wonky hips- congenital deformity of the hip sockets, which was only diagnoses at age 49, when they started locking and doing odd things.  I had the worst one 'resurfaced' which lasted almost a year before needing a full replacement.  Not ideal.  The other has some deterioration and has a multiply-torn enlarged ligament [apparently] which causes different issues.  All of this impacts on my gait, and causes some knee problems.  Joy.
Anyway.  I had a hard fall at work in January, and slammed my knee into a cement floor, leaving me in pain and limping for some time.  It hasn't healed properly, and if I forget and kneel on that knee, it feels like there's a lump of lego just under the skin.  Unpleasant, to say the least.  My replaced hip is also 'clunking' and affecting mobility to the extent that I had to start using a wheely-support thingummy for some weeks until I got straightened out a bit.
All of this means that going for a daily stroll in the local area, which is VERY steep [we live halfway up a hill, meaning either direction isn't easily negotiable] is not on my agenda.  I hate exercise, so this is no great loss, but I would appreciate an occasional stroll along a fairly level surface.  We'll see if we get round to FINDING one, and driving to and from it, in due course!
[2]Toothache.  I bust a bit of an old filling some months back, presumably grinding my teeth in the run up to lockdown, as every day working in a large comprehensive school was nerve-wracking for most of us.  It's started to HURT. I hate dentists at the best of times, and this isn't the best of times.  I'm making do with painkillers, salt water rinses, clove oil [home made] and a 'light application' of spirits from time to time.  It's in a down-phase right now, so just an occasional dull ache.  Fingers crossed it subsides.
[3]Work-  work is being set online, and we're marking and feeding back online too.  This is not easy- ever tried typing mathematical notation?  In Google documents?  Argh.  I'm surprised at how many students are sticking with it to be honest, either they are unusually dedicated, unusually bored, or their parents are desperate to get them to sit down and shut up for a bit!  Probably a combination.  I think most parents will be less critical of teachers when this is 'over'.  I had to spend some time reassuring a panicked 6th former who is terrified of making the wrong university choices and 'ruining her life'.  It's more than just chalk and talk folks [although I am much in favour of chalk and talk]
Meanwhile, more sewing, more Facebook pointless games, more DVDs.  It's fine!
[4]  The cooking is good- I'm not eating more [unlike my wife who can be a little piggy at times] but that's just as well, because, exercise.  See above!  Last night we had a venison sausage cassoulet, with kale and buttered leeks.  Oh yeah.
The cooking is also boring- at home for more meals a day, makes  for more thinking about it.  I was quite fond of the sarnies my wife made for me every day!
I have started picking off recipes I've always planned to make, but never got round to, like those delicious churros.  I found a delightful little [very little] Korean cook on Youtube yesterday, and definitely want to try out some of her recipes…but not wearing  a candy coloured manga wig!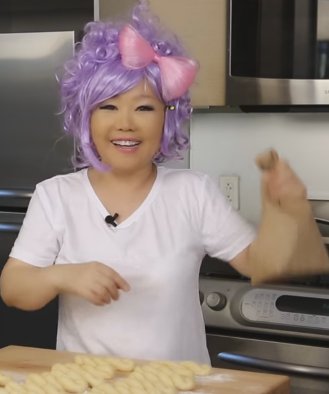 [5]  My NHS scrubs count is now up to 54, as previously stated.  My target of 60 by my 60th is now too easy, I'm going for 100.  Maybe even 120, who knows?   IT'S SO BORING!  People who've praised my efforts have called me an angel or a hero.  NO.  I am not enjoying this one bit, I like selfish sewing, but it has helped make me feel that I have a little control, and that my skills have some use.  Aristotelian to the core, my altruism is what benefits me by making me feel altruistic lol
I want to get back to my 'cake' sewing, and finish that rose-sleeved shirt…
If you want to contribute to my fabric buying, the Gofundme link is here gf.me/u/xva4nc
What a grouchy post!
Meh write a bit.